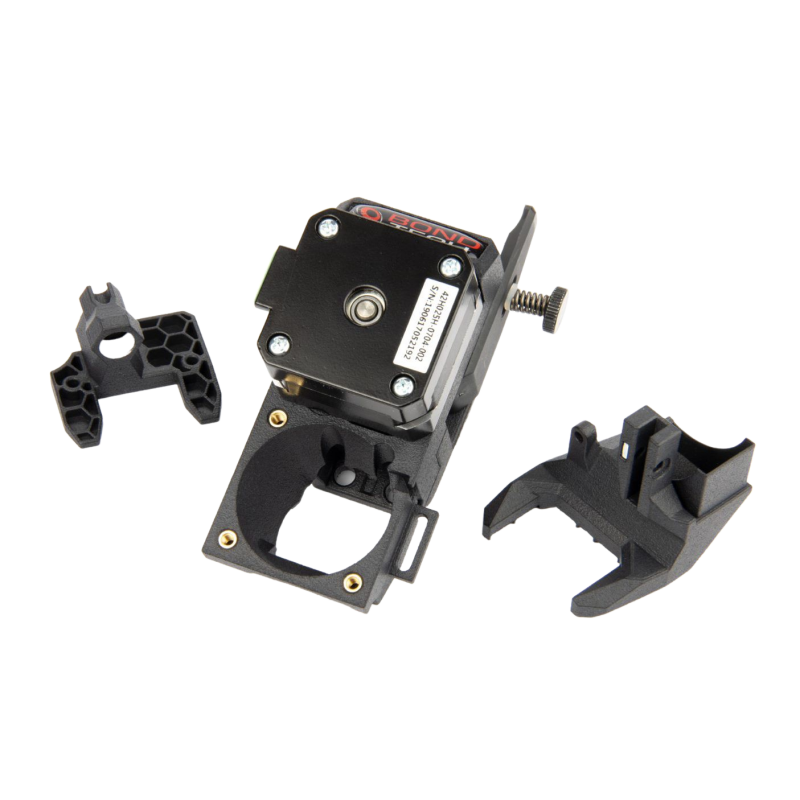  
Bondtech DDX V3 for Creality - CR-10(S)Pro/MAX
The Bondtech DDX Direct Drive eXtruder for Creality 3D printers is an upgrade kit that replaces the original bowden with a direct drive setup. It is a high-performance Dual Drive extruder based on the BMG Bondtech Mini Geared.
Bondtech DDX V3 for Creality - CR-10(S)Pro/MAX
Multiple Hotends Compatibility
This model was created to be compatible with the original hotend of each Creality model. Users may also upgrade the hotend to Copperhead™ or Mosquito™.
The DDX v3 is much easier to install
With this integrated fan shroud and mount the DDX v3 is even easier to install.
Snap the fan to the shroud without using screws.
Adjust the height of the shroud with one front access screw.


Using a bed probe with DDX v3
The DDX was designed to allow space for the bed probe to be attached to the x-carriage. In models where there is no space to attach a bed probe like the BLtouch, to the X-carriage, a mount can printed and attached to the right hand side of the DDX v3.
Bondtech DDX v3 Direct Drive eXtruder
This Direct Drive eXtruder from Bondtech is a high performance, high reliability 1,75mm Dual Drive extruder for Creality 3D printers, based on our very popular BMG. Bondtech's unique Dual-Drive technology combined with either the factory hotend or for even better performance the industry leading hotends Copperhead™ or Mosquito™ from SliceEngineering, gives you a direct drive extruder with trouble free material feeding and enables the use of a wider range of materials. The housing parts are printed with PA12 (polyamide) for maximum strength and precision using industrial grade SLS technology.
Make your 3D printer even better
Bondtech DDX v3 Direct Drive eXtruder for Creality is designed to give the user more options – different materials; higher flow and/or wider nozzles; thinner layers – and achieve a higher print quality. The DDX v3 is based on the BMG Bondtech Mini Geared extruder featuring our unique Dual-Drive technology. The DDX v3 housing design provides an effective Hot-End cooling.  With the 3:1 gearing ratio, high resolution prints with small nozzles or high flow prints with bigger nozzles can be achieved.
Easy To Setup
For ease of setup the kit is attached to the carriage with only 2 screws.
Product includes:
1x DDX v3 Extruder

1x Nema17 Pancake stepper motor

1x Thumbscrew Assembly

1x 70cm Stepper motor extension cable

1x 60cm PTFE tube

1x 7cm Capricorn tube

4x Zip-ties

3x M3x12mm screw

2x M3x20mm screw

1x M3x10mm button head screw

1x M3 square nut

1x 10079-4 PA12 Fan Shroud

1x 10079-44 SLS Bowden Adapter




(supplied with a tapered thread to better fit the stock metal threaded push-fit)

1x M3x18 Screw

1x M3x20 Screw

2x M3x8 Screw

2x M3 5mm Square Nut
Compatibility notes:
See the "items you may like" section below for the additionally required BL touch mount if you wish to retain it.

Requires your printer to have a 40x40x20 radial fan (also sold here at KB3D)