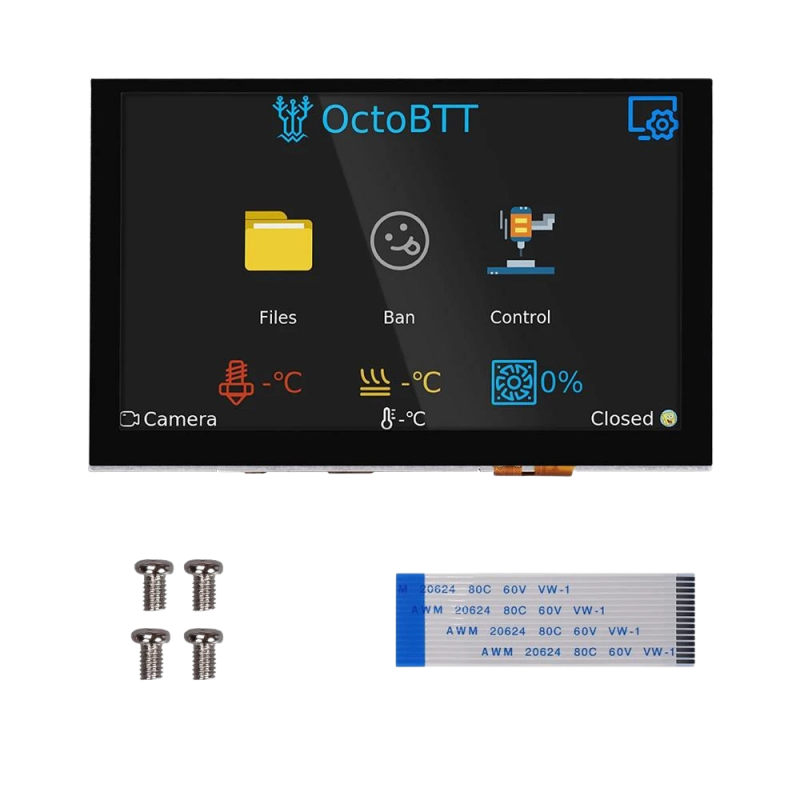  
BTT PITFT50 V2.0 5 Inch Pi LCD Touchscreen Display
The BigTreeTech PI TFT 50 V2.0 is a 5 inch LCD touchscreen display for your Raspberry Pi. It offers an 800x480 resolution, adjustable brightness and is compatible with Klipper screen.
BTT PITFT50 V2.0 5 Inch Pi LCD Touchscreen Display
Installation notes can be found on our Wiki here
 This is a 5-inch LCD touch screen with a resolution of 800 x 480 for Raspberry-Pi. The display area can reach 108 x 64.8mm.
 Adapt to the Raspberry-Pi DSI display interface, directly driven by DSI; with a capacitive touch panel. Supports 5-point touch.
 The unique hole design on the back allows you to install the Raspberry-Pi directly. PI TFT50 display adopts Raspberry-Pi power supply design, no external power supply is needed.
 The PI TFT50 display supports hardware backlight adjustment, and the backlight brightness can be adjusted by rotating the potentiometer behind the screen.
PI-TFT50 V2.0 Technical Specifications:

Working Voltage: 3.3V (provided by Raspberry Pi display interface)

Maximum Working Current: 320mA

Screen Current: 100mA

Screen Resolution: 800*480

Video Interface: Raspberry Pi DSI

Touch Points: 5 points

Viewing Angle: 60°/70°/70°/70°

RGB888-16 Trillion True Color

Refresh Rate: 60Hz

Luminous Rate: 280 cd/m2

Working Temperature: -20℃-70℃

Dimensions: 121mm x 76mm

Mounting Hole Size: M2.5

Outer Mounting Hole Position: 113mm x 68mm

Inner Mounting Hole Position: 58mm x 49m